Montana de Oro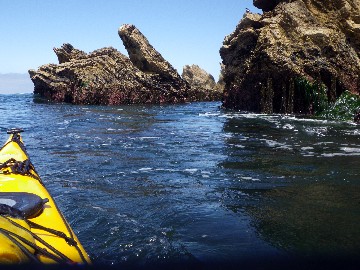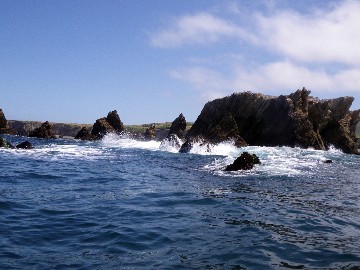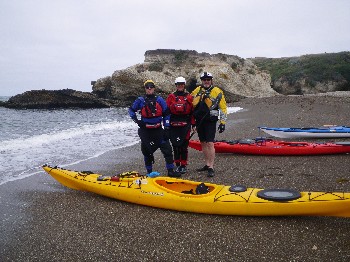 I'm not what many would consider an intrepid explorer; I rarely find myself away from my local Newport Beach waters. But I have a pretty good imagination, so as I wonder around my local rocks, I can imagine myself paddling in New Zealand, the South of France, or any far away place! But I found myself intrigued by an exotic sounding location not too far from my own backyard and convinced a few friends to join me on a road trip!

Montana de Oro is a State Park located just six miles south of Moro Bay, CA. I learned enough from my 8th grade Spanish class to know that Montana de Oro means Mountain of Gold! I assumed the gold was of the "amber waves of grain" variety and it turns out I was right, the name coming from the golden wildflowers that amble their way around and up the 1,347' Valencia Peak. Windswept coastal scrub vistas and unique geology make the park a great place to hike, bike or horse back ride! The area's nearly 8,000 acres were dedicated as a State Park back in 1965, making it one of the largest parks in California.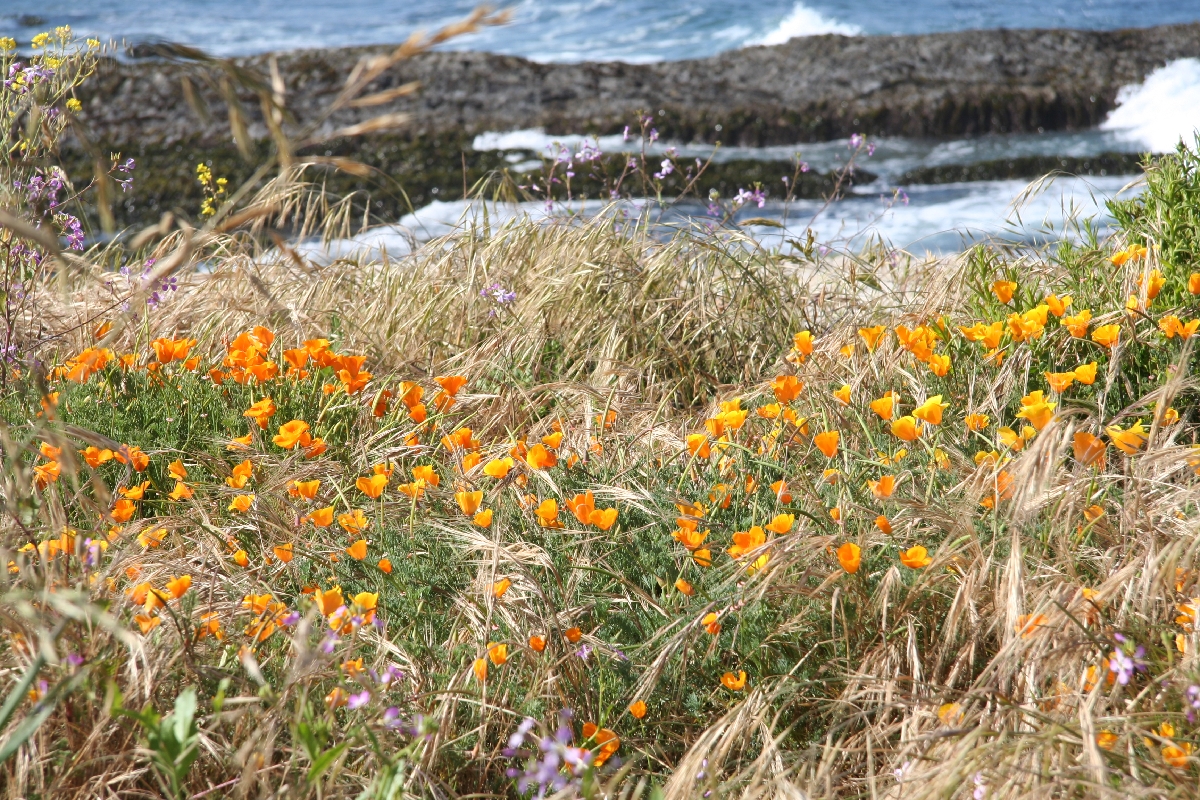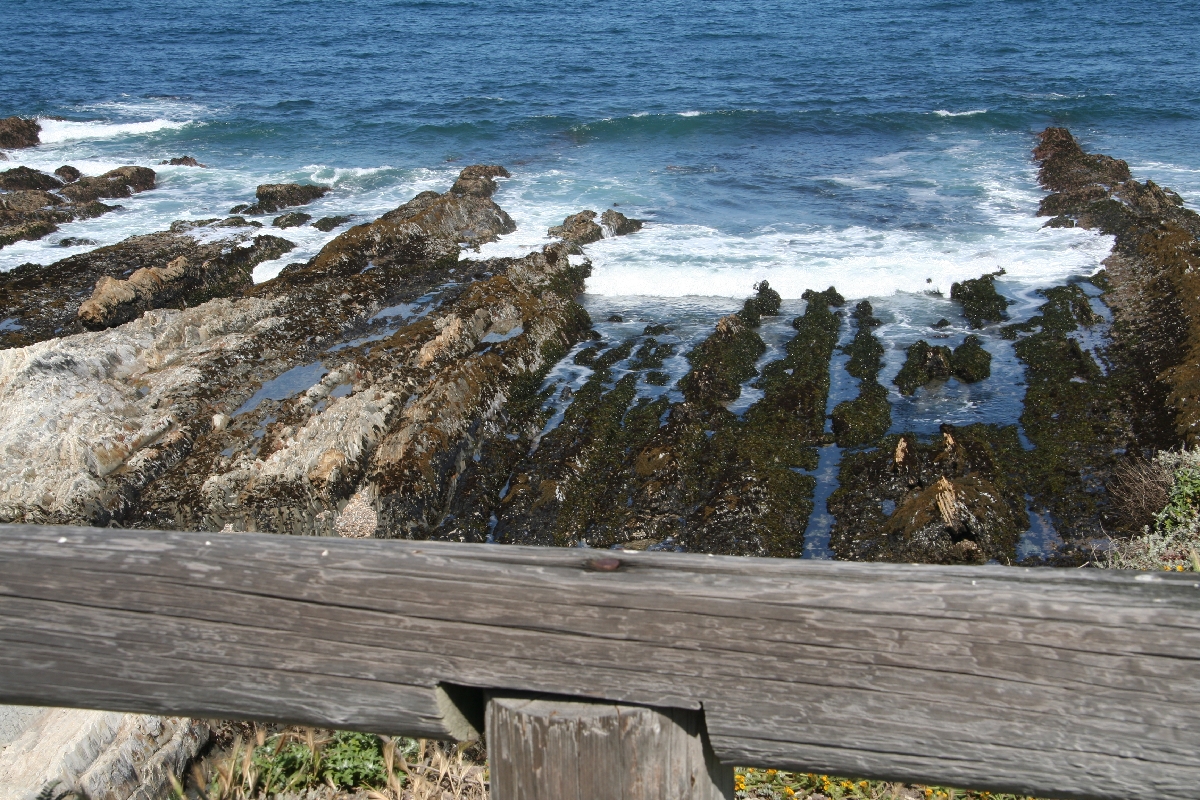 Our Tuesday arrival allowed us the pick of almost any site at the Islay Creek Campground tucked in above the visitor's center and store. Nearing the end of spring, the hills were still green from our winter rains. Spooner's Cove, our proposed launch site on the trip was conveniently just outside the campground. We set up camp in the late afternoon under a heavily overcast sky, with a cold wind blowing alternately up and down the camp!

Our night was uneventful, aside from the visit from a group of raccoons, who when they found our ice chests too well secured decided to show their displeasure by upending my box of pots and pans! We awoke to a chilly, breezy morning with little to suggest the sun would ever show.

At 8:30, Debra, Ken and I were on the beach at Spooner's ready to launch with Barb there just to wave goodbye! The buoy offshore was reading 6 feet and the winds were supposed to kick up to 15kts by the afternoon. There was a bit of trepidation in the group, as there was a lot of texture to the water in the protected cove with breakers on both points. We decided to head straight out the cove to see what the coast looked like past the protective boundaries. Outside, we had some large rolling swells as we turned to head south, but nothing we couldn't handle.

It was an interesting coastline, at least what we could see from our outer path. Ken spotted a buoy off a point and we decided to make it our destination. Geared up as we were for any eventuality, we found ourselves a bit warm with the breeze behind us and soon we were all thinking of a cooling roll. As we got closer to the buoy, we could hear a for horn on board that was activated by the motion of the swells. I couldn't help but think its mournful wail echoed the pain in my heart as we paddled farther from the rocky coast! Still, our time on the water had gotten us used to the conditions and after a short break, we decided to head closer to shore.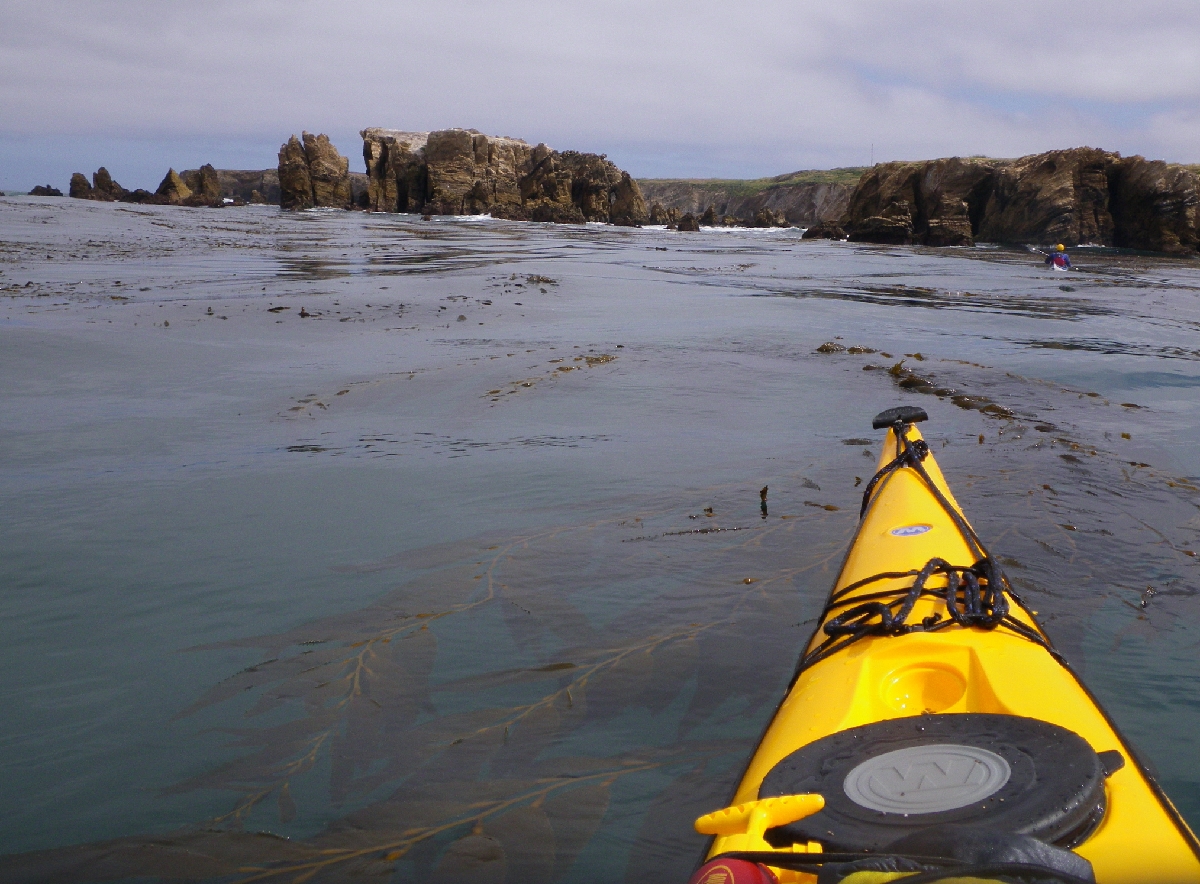 The unique rock formation along the coast have an interesting way of making the beaches look quite square! I saw one large square beach and suggested we see if there was any chance of landing. We paddle past massive Bull Head Kelp, each watching us pass by. At the north end of the large beach, Debra picked out a protective landing and we all headed in. It was a beautiful small pebble beach and we hunkered in for a break.

When we launched, Ken and Debra headed out for clear water, but I couldn't get away so quickly from the interesting rock formations. I was surprised that despite the larger swell outside, there was little trouble maneuvering around the rocks. I scooted out around a couple of more exposed reefs, but with little timing made it quite a way back close to shore. As we neared Spooner's Cove, I had to go out to join Ken and Debra to get around the final points. As we headed into the cove, Debra and Ken chose the wide open beach to land. I chose a rocky alley along the north side of the giant rock guarding the beach. It was a sloshy ride over a rocky shelf, but I landed without a problem.

The next day we had a leisurely morning before embarking on a hike along the coast. We ended up hiking past most of the area we'd paddled by the day before. The rock formations really were like nothing I'd ever seen before, like fingers jetting out into the water. From this vantage point, we could really see how well you could maneuver into the rocky coves without much trouble. It had us all thinking of coming back for a more thorough exploration. It was a great hike with views of Moro Rock off in the distance. We returned to camp just in time to be treated to a bobcat hunting in the grass right on the side of the road!




With that, it was time to head home. Our trip to Montana de Oro had been a short, mid week visit to a place we weren't really sure how well we'd enjoy. It turned out to be a great adventure and one I hope recreate soon. Thar's gold in them thar hills!--well, at least if your idea of valuable treasure includes wildflowers, staying warm around a campfire with friends, enjoying beautiful coastal scenery and exploring rugged, remote coastal waters.



Montana de Oro Photos
Circle of Life Photos
Mark Sanders
HOME